Apex Legends Review – If you are a fan of battle royale games, maybe you are already familiar with the Apex Legends game. Yes, Apex Legends itself is a game with the battle royale genre, where this game carries the concept of a first-person shooter. This game is the result of development from Respawn Entertainment, whose publication is managed by Electronic Arts.
Initially, this game was first released on February 4, 2019 for several devices, such as best free game on PS4, PS5, Microsoft Windows, Xbox One, and Xbox Series X, which oddly enough they did not provide any announcements or advertisements prior to its release. Reportedly, this game will also be released on the Nintendo Switch this year, to be precise on March 9
The release on the Nintendo Switch is close to cross-platform games on all platforms that support this game, to be precise on October 6, 2020. In addition, at the end of 2022, Apex Legends is planned to be present on iOS and Android.
In general, this game will contain 20 teams of three or 30 teams of 2 people. These squads will be stationed on an island to search for weapons and supplies, which will later be used during battle. Like other battle royale games, Apex Legends has a play area that will shrink over time.
Because this area is shrinking, players only have 2 choices, which are to stay outside the area that was fatal or keep moving in a narrow space. At the end of the round, the last team will be the winner.
Based on a statement from the developer, this game was worked on from the end of 2016 to 2017, where the maintenance of the confidentiality of this game was proven valid, because there was no information leakage. At its release, many people were surprised, because at that time there was a busy assumption that the development team was working on the third title for Titanfall.
In general, the Apex Legends game received reviews from a number of critics who stated that this game was positive and satisfying. They feel that the gameplay, the combination of elements from a number of existing genres, and the development looks good. Some critics have even equated Apex Legends to a level that could rival Fortnite Battle Royale, a battle royale game that gained high popularity the previous year.
Therefore, maybe you are already curious about the Apex Legends review. Without the need to linger any longer, let's discuss it in detail.
Also read: Fortnite Battle Royale Review
Apex Legends Review by Its Gameplay
As stated earlier, we know that Apex Legends is an online battle royale game with a multiplayer concept, where this game will feature teams of three players. Each of these players will have a character that they have previously created, which is called Legends. This character is similar to the hero shooter character. A multiplayer system with three players is the default mode, however this game allows an alternative mode, which allows a single player or a squad system with two players. You don't need to worry about spending money to be able to play this game, because this game is free. If you are confused about where the monetization process is, this game is monetized through micro-transactions, which will allow players to spend real money on a number of equipment, such as Legends costumes, weapons, and so on.
In general, in each match this game will provide performances from 20 teams with 3 players in each team. Each player can join their partner in a team or be randomized with other players. Later, before the match starts, each player will choose one of the 16 characters, where you cannot select the selected character more than once in each team. It is intended that all the characters on your team have different and unique personalities, designs, and abilities, where these differences will be able to provide different ways of playing and allow all abilities to emerge.
After you choose a character, your team and 19 other teams will be placed in an airplane that flies across the map in the game. Each team must have one jumper, where this jumper will choose the right time to free fall from the plane and the location to land, of course, with the approval of 2 other team members.
After landing, all teams can search for supplies and weapons, such as armor and other equipment. Usually, these items are found around buildings, chests, and other places. You and your colleagues can use the ping system as a nonverbal communication aid. This is important to control the game and communicate about enemy locations, weapons, directions, and strategies. If you feel more intense, this game has a gameplay feel similar to Titanfall, such as sliding on sloping surfaces, climbing walls, and others.
Don't forget to keep your guard up because the zone in the game that will keep you and your team safe will decrease in size. You must be prepared for some fatal consequences if you are outside a safe area and do not move to your safe zone in a timely manner. This has resulted in battles between squads, where the defending team will be the champion.
Also read: DC Universe Online Review
Apex Legends Review by Its Visual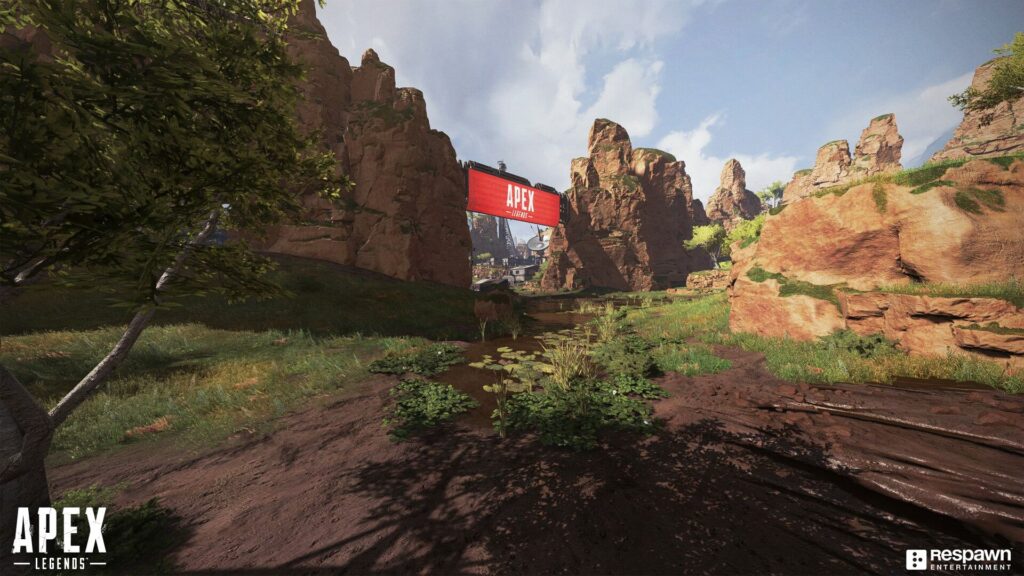 Apex Legends was created via a modified Valve Corporation's Source engine. The previous source was used for the creation of the Titanfall 2 game. In this game, there are a number of adjustments that are needed in order to increase the distance in a balanced way and in order to create a larger game map. This game generally has a sharp, modern, and dynamic display resolution, however, the image quality and frame rate have decreased. This decline can be felt especially in the console version and a number of low-end Personal Computers.
---