Not having to bother paying for the games we want to play is one of the most enjoyable things. There are tons of free games that you can find on various devices, for example, on your computer, your cellphone, Nintendo switch, on your PlayStation 4, which are so neatly placed on your shelf. The question is, what is the best free games on PS4?
You don't need to worry about that, because this time, we will discuss the 10 best free games that you can play on your favorite PS4 device, which of course will be judged from various aspects. Happy reading!
Top 10 of Best Free Game on PS4!
1. Star Trek Online
You are a fanatical Star Trek fan and maybe you are looking for what is the best free game on PS4 that you can play to fill your spare time? Well, you need to put Star Trek Online as your top priority.
As the name suggests, the Star Trek Online game is an online-based game, where you must activate an internet connection to be able to play this game. In this game, you can explore all kinds of fantasy adventures, which will make you forget for a moment about your job, your school, or other tiring things. In Star Trek Online, you can explore completely, even to locations that have never been visited by people before. Not much different from the film, Star Trek does take a space background with the science fiction genre. In this game, later you will have various roles, which of course you can choose to your heart's content. These roles, for example, become human, a typical alien from Star Trek (Vulcan, Cardassian), to a special race alien.
Worried about where the intense battle might take place? Don't be in a hurry, because you will certainly be involved directly to enter into battles that are located in outer space, land, while tinkering with the technology you have. Because this game is rich in extraterrestrial knowledge, you will be immersed in a fun storyline and get a lot of new knowledge. You can also buy currency to get the equipment you need in the game, such as clothes or other equipment.
2. DC Universe Online
You, DC lovers might like this free game on PS4, namely DC Universe Online. This game itself is a multiplayer based game, where you will create DC heroes or DC villains, followed by characters, abilities, and costumes that deserve thumbs up.
In this game, you will be presented with an original storyline filled with various events and adventures, such as alien attacks, time travel, real-time battles, and much more. There will also be normal MMORPG features that range from parties to raids. Unfortunately, if you want to continue the next chapter of the story, you have to pay. However, in the free version, we think that what this game has to offer is quite satisfying.
3. Fortnite Battle Royale
Fortnite Battle Royale offers players a number of thrilling adventures. This game with a multiplayer system will allow you to parachute into the war center area, search for a number of weapons and supplies desperately to survive, to do an all-out battle that will only leave a small number of players, usually. one person or one team.
Fortnite Battle Royale is one of the most popular games you can play on PS4 (of course for free), because there are a lot of developments and updates done by the development team, making this game a gamer's favorite.
4. Apex Legends
Apex Legends is a strong rival of Fortnite Battle Royale, where this game will provide a very tempting offer for gamers, namely in the form of gameplay with tactical steps that you can play in groups. Later, 20 teams from 3 total battles will be the team that survives at the end. It would be great to see a number of these teams survive and battle in a thrilling way.
This game has a uniqueness that makes Apex Legends stand out compared to other action ps4 games, namely you can choose different characters, based on their respective abilities. This allows you to develop your creativity in shaping the best and brightest strategies for your team. In this game, you can also mark locations, enemies, or weapons using the game's ping system. This leaves you and your teammates with no words to say when doing these things.
5. Call of Duty: Warzone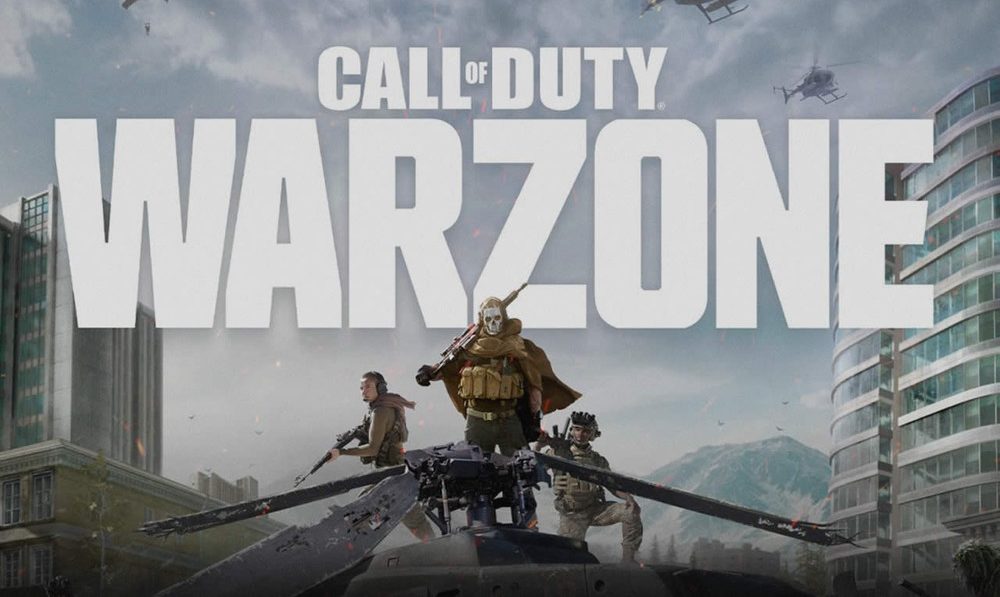 Another game with the battle royale genre that we recommend for you is Call of Duty: Warzone. Usually, this game is called by its short name, namely Warzone. Battle royale games have become a favorite lately, and Warzone is one of the favorites.
In this game, you'll jump right into battle with 150 players as you jump off the plane onto the game map. The location taken is on a super large island taken from a classic map. Sounds very fun, thrilling, and challenging right?
Call of Duty: Warzone allows you to choose one of two game modes provided. These modes consist of standard Deatmatch and Loot. In the first standard mode, you will later be placed in small teams to fight with other people, where gradually the area you can play will shrink. For Loot mode, you will be assigned to complete a certain number of missions to earn money.
6. Rogue Company
You may be wondering, what is the best free game on PS4 next. Undoubtedly, Rogue Company occupies a special position in this category. At no cost, you can play this game with 4v4 objective-based battles. Sounds very interesting right?
Similar to the previous game, first you will do parachuting first to get to the mainland where you will have a match. Unfortunately, of course the landings were not designed too smoothly. There will be a number of distractions, such as bombs or a number of control points that you need to catch carefully.
If you are successful, you will be able to move on to the next round. Here, you can buy various equipment from the money you have earned from the match. There are various equipment that you can buy, such as weapons and to upgrade new abilities. Not only buying equipment, but you can also spend the money immediately by killing your enemies with surprising firepower. A number of updates that are carried out regularly always succeed in making this game interesting.
7. Hyperscape
This battle royal game that is a rival to Crown Rush is the next recommendation for the best PS4 free games that you can play. In this game, you will later be faced with a number of 99 other players in a map area. The map area will eventually shrink, where you will also be required to search for weapons, special items, and other items to defend your life.
In the final round, you can claim victory by owning the Crown for about 45 seconds. In addition, you are still given the opportunity to participate in the game if you have lost at the beginning of the round by participating as an echo, this role is used to remind your teammates of imminent danger.
8. Mobile Suit Gundam: Battle Operation 2
The recommendation for free games to play on other PS4 is Mobile Suit Gundam: Battle Operation 2. To become a master in this game, of course you are not required to follow up on TV shows or the very famous Gundam movies. This game with a multiplayer system will provide a platform for two teams of six people each to enter the battlefield. To reach the battlefield, there are a number of ways, one of which is on foot. The cool thing is, in this sequel there is a new, unique option, which is to carry out battles in outer space or to add new dimensions to the battle.
While playing, you are allowed to unlock a large number of different settings. In addition, you can also pay with your money to be able to open it. You can meet a number of other players, make upgrades, to design the next battle.
9. Dead or Alive 6: Core Fighters
The free version of this game is more or less like you are testing the game you are going to buy. Dead or Alive 6: Core Fighters will let you play the free version before you buy the paid version. Even though it's a free version, you can play it in a fun way. You will indeed be limited to only various characters, but you are still allowed to play a large number of 3D fighter modes, such as battle mode, training, and story mode.
The value is even more, this game offers graphics with a realistic style that is very stunning. With development and upgrading carried out continuously by the development team, it's no wonder this game is made one of the best games on the PS4.
10. Let It Die
In general, Let It Die is an eccentric game. In this game, you will be forced to climb the tower. Inside the tower, waiting for a number of enemies who are brutal, violent, and ready to fight with a number of terrifying equipment. You can beat these enemies for money. Also, inside the tower, there are more and more challenges that you will get. The cool thing is, if you die, your character will come back to life in other players' games later.
The actions you take are accompanied by suggestions from Uncle Death. In general, this game offers adventures and battles that are not too thrilling, but very eccentric, strange, and difficult.
---
Which console has the best exclusive games?
To provide recommendations for which console has the best exclusive games, you need several aspects that need to be reviewed in depth. When judging by the number of exclusive game titles, our choice for the best console is PS4, when compared to Xbox. On the PS4, you'll get more of the great exclusive game titles you can play, most of which are pretty familiar to gamers. Apart from that, PS4 also allows use of a companion device to enjoy your PS4 games on the screens of your other devices.
Xbox of course has a number of exclusive game titles that are quite selling, but there are a lot less. In general, you will probably prefer the PS4 in terms of the exclusive games it has to offer, if you are not familiar with the Xbox One.
---
Does PS4 have better exclusives?
So far, the PS4 overall has a better lineup of exclusive games than any other device, especially when compared to Xbox. Apart from the fact that the number of exclusive games produced by PS4 is more, the PS4 which is owned by Sony is known to be more innovative and dare to take risks when compared to Microsoft (which released Xbox) which is more risk-free.
Sony is known to have a good relationship with its developers, making it easier for PS4 to release new games that are more innovative, fresh, and fun to play. Meanwhile, Microsoft lacked close ties with its developers, and a number of projects for the Xbox One were canceled, resulting in a wide shortage of exclusive games.
Are PlayStation exclusives worth it?
Is the PlayStation exclusive worth it to buy and play? Well, the answer really depends on your preferences. If you already like certain games that are exclusively released by Sony, then your choice to buy PS4 exclusive is a very good choice. In addition, gamers also recommend games released by Sony, where these games are their best games.
However, if you are used to playing with Xbox games from your early days, then it seems more worth it if you buy exclusive games from Xbox One, Xbox One S, or Xbox One X.
Conclusion
Judging from the series of discussions above, we can conclude that PS4 has a number of satisfying games, both free games and paid games. We have recommended 10 free games that you can play on PS4, you only need to choose what kind of preference you want when you play the game, whether in terms of the sophistication of the technology used, stunning graphic display, movement speed, and so on.
Apart from that, it can also be concluded that until now, PS4 has some of the best exclusive games recommended by gamers. This is because PS4 has a number of new innovations that are regularly issued at each period, so that it brings fresh air for gamers.