Fortnite Battle Royale Review – This time, let's discuss one of the epic or best free games on PS4, namely Fortnite Battle Royale. It seems that many of you already know this game well, however, for those who don't know, we present this review to you.
The Fortnite Battle Royale game itself is one of the games with a battle royale concept, where the development and publication is handled by Epic Games. If you've played or heard of the game Fortnite: Save The World, then you will know that Fortnite Battle Royale is the companion. This game was first released in 2017, to be precise on September 26 for a number of devices, such as PS4, Xbox One, Windows, and macOS. The PS5 and Xbox Series X / S will be released in 2020.
It is no secret that Fortnite Battle Royale has received a number of admirable appreciations from game critics, ranging from the gameplay, multiplayer, development system, learning curve, to the aesthetic aspect, even though this game is considered similar to the previous game. You certainly know that this game has become very popular, especially when several celebrities like Marshmello and Drake also contributed to the popularity of this game.
No need to linger anymore, let's take a look at the epic action ps4 games Fortnite Battle Royale review below.
Fortnite Battle Royale Review by Its Gameplay
Because Fortnite Battle Royale is famous for its incredibly epic gameplay, now we have to discuss the gameplay in depth. For its own format, the Fortnite Battle Royale game still follows the standard format that is usually used for games with the battle royale genre. This game can be played single-player, double-player, or multi-player for up to four players. In each wave, there will be up to 100 players participating.
You as a player will start the round by parachuting from a bus called the Battle Bus that is floating, of course, without weapons. You will then launch the glider onto land. There are a number of landmarks in the location, such as Retail Row, Pleasant Park, to Lazy Lake. These locations are generally in the form of uninhabited cities, where you can find a number of weapons, shields, and other features in several locations, for example, abandoned buildings and other sites.
You play this game with the aim to become the last player alive. You can find various ways to survive until the end, for example defeating or avoiding other players. The drawback when you play solo-player is that you will be eliminated immediately if you run out of vitality. If you're on a team, you can ask a friend on your team to help out.
Like most games, over time the zone of games you can play safely will decrease in size, and will cause some fatal damage if you are outside the zone. As a result, a number of players who are still alive will be directed to a narrow space and make the players inevitably have to meet. You will also find some random supplies, such as weapons and other support items.
You can destroy buildings in Fortnite Battle Royal. Once you've destroyed it, these crushed materials (such as stone, metal, or wood) will allow you to build your fortress, although the fort's ability to defend itself is quite limited.
In this game, it is also possible to purchase internal game currency, which can be called V-Bucks. V-Bucks, like in other games, you can use to buy a number of equipment, such as weapons, clothes, gliders, and various other equipment.
Since Fortnite Battle Royale was released, there have been a number of new, satisfying additions to the features, from emergency vehicles, weapons, to a number of new items. You can even adjust aspects in terms of attributes or weapons.
Also read: Star Trek Online Review
Fortnite Battle Royale Review by Its Visual Display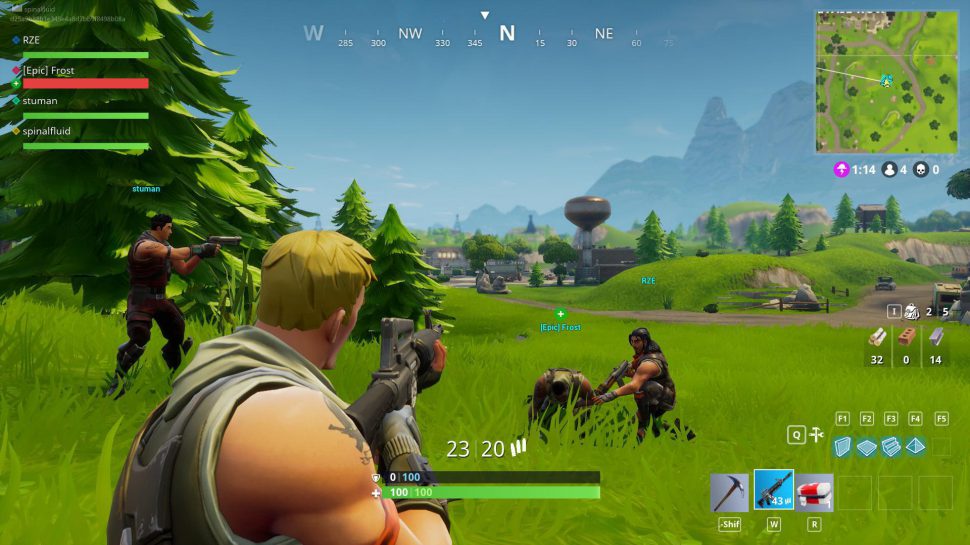 In terms of the visual graphics applied in this game, we can say that the concept given is fairly modern. Fortnite Battle Royale uses the Unreal Engine for visual graphics creation, where the Unreal Engine was created by Epic Games. In general, the visual graphics shown in Fortnite Battle Royal take a cartoon concept with a bright color palette.
In general, there were significant visual improvements during the Fortnite Battle Royale update. The animation that is displayed now looks sharper, the environmental display feels more detailed and lively, and there is almost no framerate drop. There are still flaws, such as movement problems that are a little strange. However, in general, everything looks quite amazing.
The game developers promise that they will provide more detail in terms of visuals for Fortnite Battle Royale in the next generations, such as the PS5, Xbox Series X, to the Xbox Series S. Reportedly, Fortnite Battle Royale will run at 4K-60 fps resolution at Xbox X Series and PS5, and 1080p-60 fps resolution on the Xbox S Series.
There will be an increase in dynamic visual capabilities, where later there will be an explosive response from trees and grass. Visual effects of smoke, liquid, clouds, and storms will be enhanced in detail to make it look more realistic. Load time is fairly fast and increases, which allows gamers to be able to follow the game more nimbly.
Also read: DC Universe Online Review
---